GROUP EXHIBITION
RECEPTION: Friday, March 22, 6pm – 9pm.
Click here for details or to purchase tickets.
JOHN MICHAEL KOHLER ARTS CENTER
608 New York Ave.
Sheboygan, WI 53081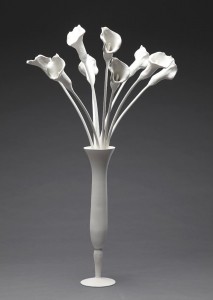 ARTS/INDUSTRY: COLLABORATION AND REVELATION is the first-ever retrospective exhibition of the Arts Center's world-renowned Arts/Industry residency program. This sweeping exhibition surveys more than 350 works of art created by artists using the materials and processes of plumbingware manufacturer Kohler Co. Installed throughout twelve of the Arts Center's galleries, the exhibition is curated by Arts/Industry's founder, Director Ruth DeYoung Kohler, and draws primarily from the permanent collections of the Arts Center and Kohler Co. Opening during the National Council on Education for the Ceramic Arts (NCECA) conference, which will be held in Milwaukee from March 19–22, 2014.
Untitled (Calla Lilies), 2011, vitreous china, 24 x 24 x 48 inches.