BY MILTON GEORGE
A Q & A with Creative Monday Magazine. Read below or view original post.
"Like the clay studies that classical sculptures were based on, I visualized an effort to reshape myself and propose the possibility of a new ideal, one positioned more as a work in progress than an achievable end."

I'M PATRICK EARL HAMMIE, AND THIS IS HOW I CREATE
My name is Patrick Earl Hammie and I'm a visual artist who makes large-scale portrait and figural oil paintings. I draw from art history, visual culture, and personal experience to examine ideas related to cultural identity, masculinity, beauty, and sexuality. I often use allegory to implicate power structures, and question systems of racism and sexism. I was born in New Haven, Connecticut in 1981, and raised in West Haven. When I was young, I did martial arts and drew all the time, copying characters from comic books and television shows. I studied studio art at Coker College in South Carolina, and freelanced as a portrait painter for two years before returning to New England to study at the University of Connecticut, where I received my MFA in 2008. I currently live in Illinois, where I work as an Associate Professor at the University of Illinois Urbana-Champaign.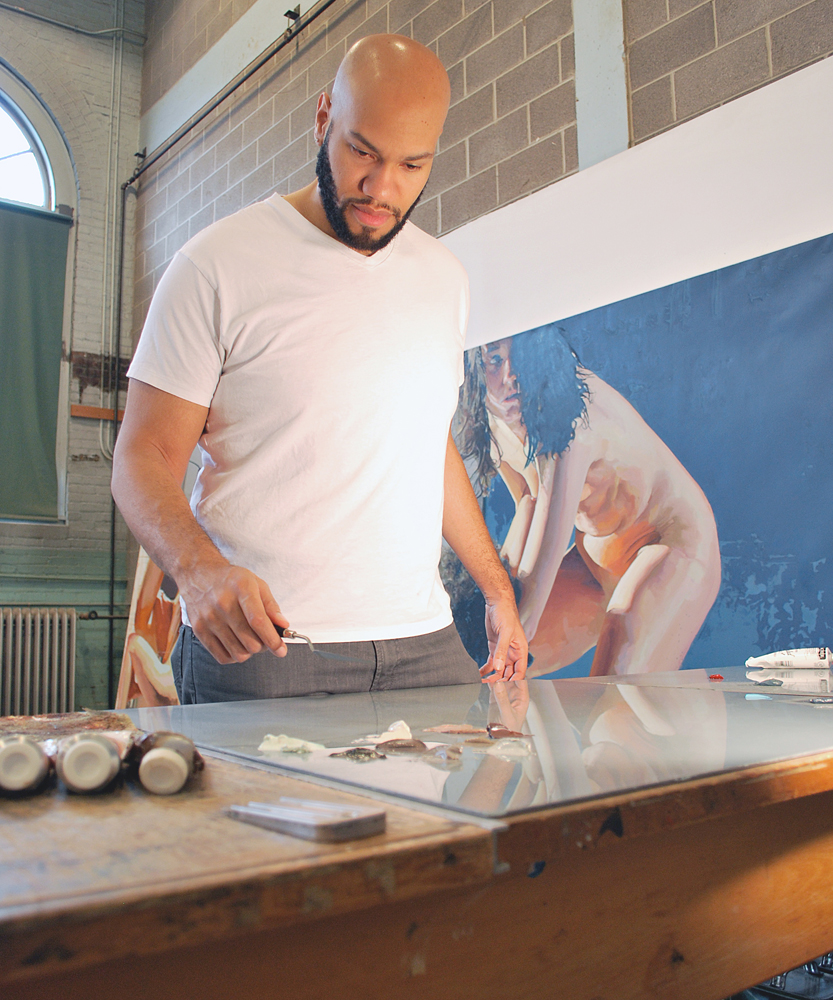 Why did you become an artist?
I'm drawn to grand stories steeped in history, from Baroque painting and classical music to graphic novels and hip-hop, and the narrative, technical, and pictorial traditions in Western Art, in particular the nude. My artistic direction came in 2007 when I considered my reaction to my father's death in 1999. I'd become emotionally reserved, which led me to question the source of this behavior and art's role in representing and nurturing such masculine traits. This reflection inspired me to put my un-idealized brown body in conversation with the idealized male form. Like the clay studies that classical sculptures were based on, I visualized an effort to reshape myself and propose the possibility of a new ideal, one positioned more as a work in progress than an achievable end. The painting Bend from 2007 portrays a bulky male figure pulling and tugging at his loose flesh, the antithesis of the hard-bodied heroes of Old Master imagery, laid the groundwork for my first project "Imperfect Colossi."
My recent project "Significant Other," the conceptual follow to "Imperfect Colossi," began during the 2012 presidential campaign, and was inspired by how women, LGBTQ, and people of color were being situated as central influencers of culture and politics. This series of paintings thinks through historical representations of Otherness and reorients inherited expectations of these bodies. Paintings such as Aureole from 2013 feature a commanding woman rotating a reclined man's body to his side, baring his nakedness and inspecting his state of consciousness. I introduce the woman as an active authority and relieve the man from macho performance, constructing moments where traditionally masculine and feminine strengths are conflated in the woman's actions while the man's body and its traditional signifier of power—the penis—is vulnerable to public critique.
In retrospect, I'm compelled to understand why people and groups behave the way they do, and reshape these conventions in order to examine critical aspects of gender, race, and storytelling today.
What's your studio set-up like?
My studio is located on the University of Illinois Urbana-Champaign campus in the historic Armory Building. I have a main working wall with my palettes and paint on tables to the right. I have a sitting/thinking area too, but most of the space goes to storage for paintings, shipping crates or shelves for supplies, and floor space for stretching canvases. The space was once used for military staging and training during World War I and II, so there is a lot of history there. It's ironic that a space once used for war-waging activities is now used for creative endeavors.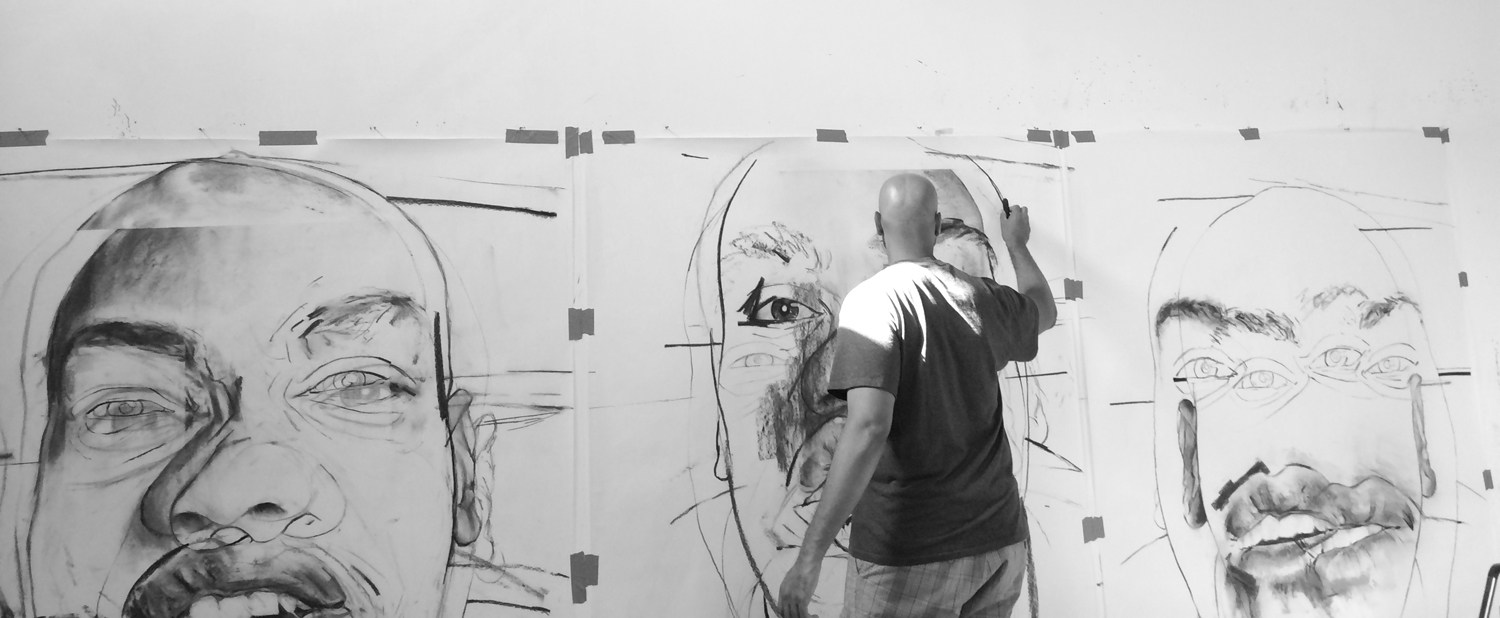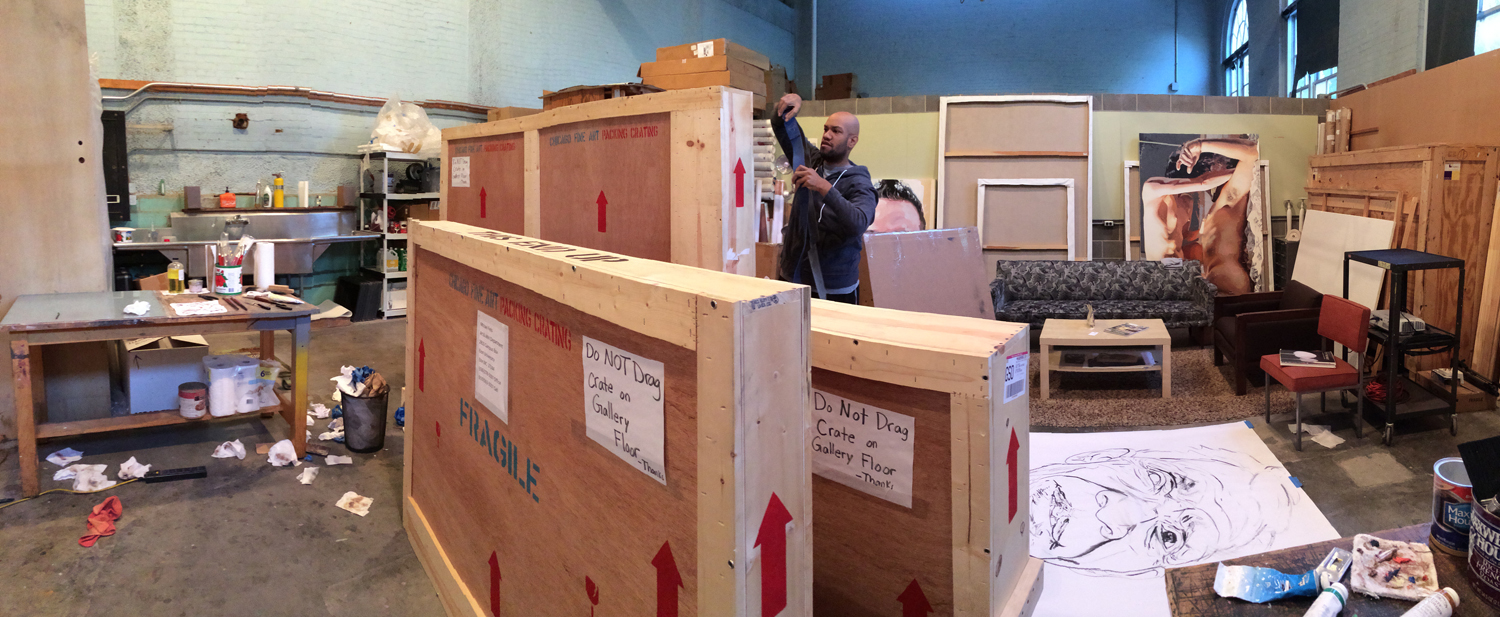 Who has influenced you the most in your life?
My parents—they were examples of encouragement and endurance. My mother Carolyn worked as a switchboard operator for 30 years, and my father Ervin Hammie Jr. served in the United States Marine Corps, and was a foreman and gravedigger. They supported me in all of my undertakings: They drove me to karate tournaments on weekends as a child, attended high school football games and choir performances in high school and college. They instilled the importance of education, pushing me to expand my artistic interests beyond comics to include still lives and landscapes, and pursue higher education.
What's your favorite quote?
Favorite's tough. As a younger creative person, a quote by Ta-Nehisi Coates from 2013 sticks with me, "…breakthroughs come from putting an inordinate amount of pressure on yourself and seeing what you can take, and hoping that you grow some new muscles… it's not really that mystical, it's like repeated practice over an over again and then suddenly you become something you had no idea you could really be, or you quit the field and say I suck; that could happen too."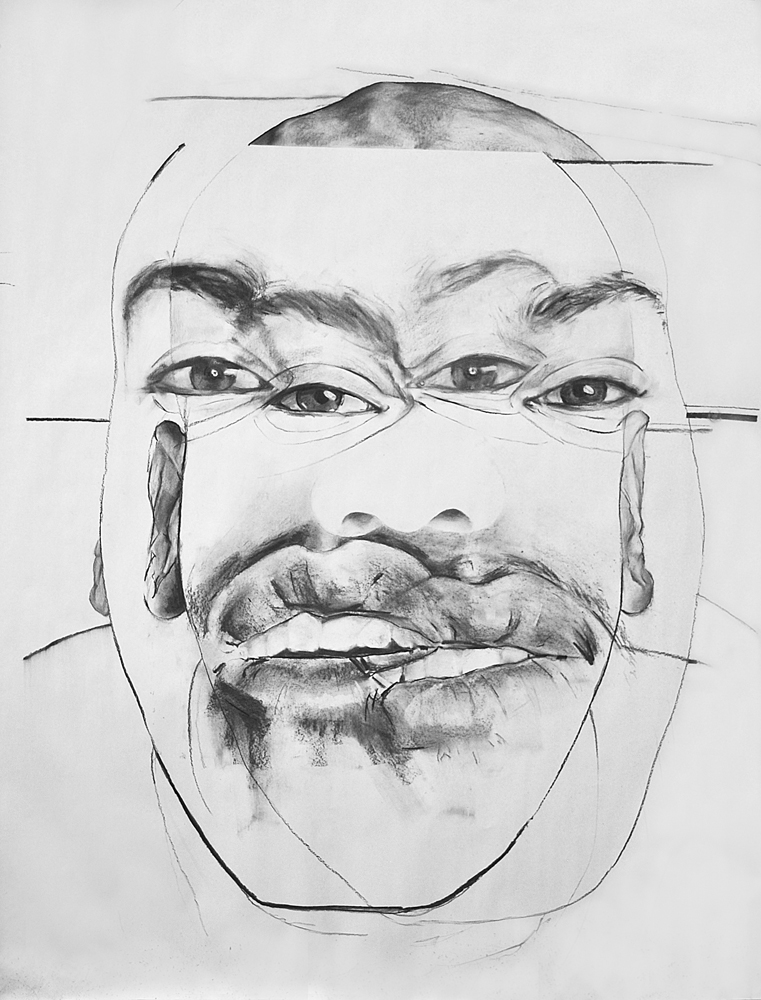 What's your best life hack?
My wife. We're a team, there's no other secret. In addition to her work as a magazine editor and part-time art history instructor, she generously manages a portion of the administrative side of the studio. Her time and support allow me to be more productive.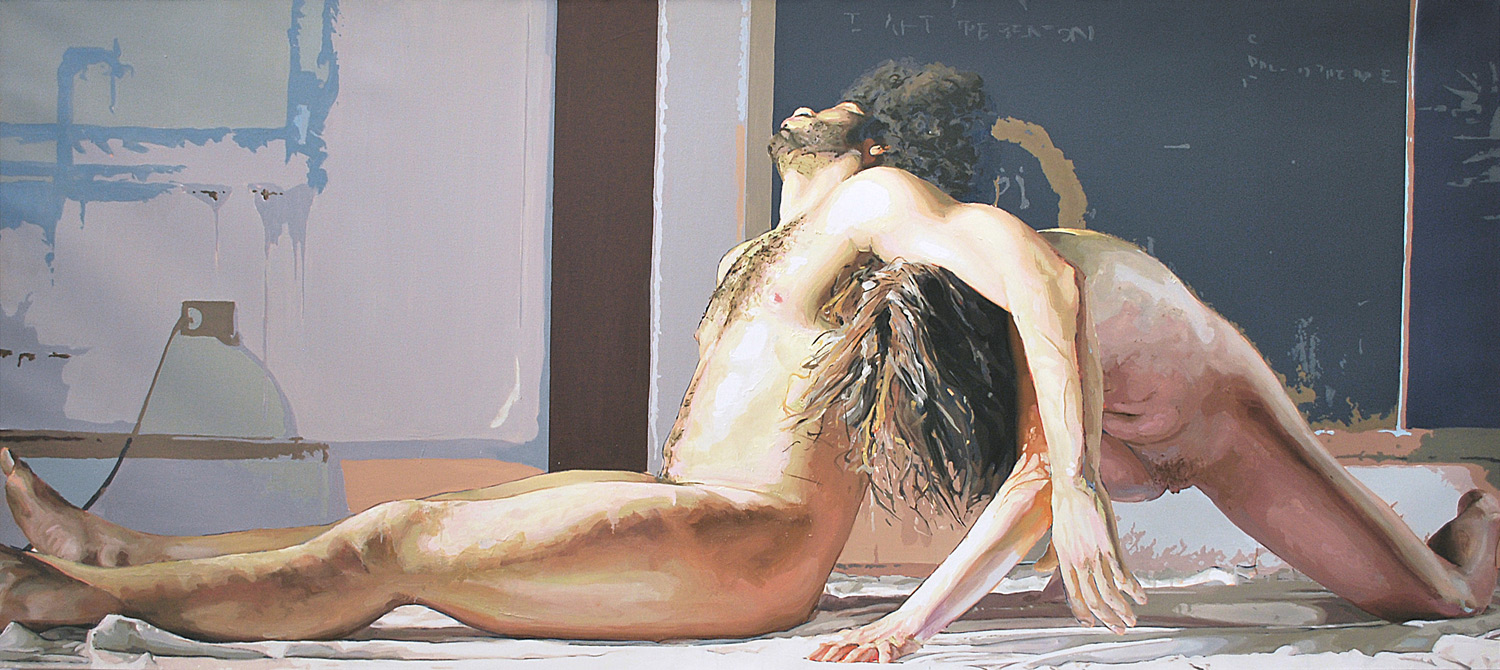 What item can't you live without and why?
Whatever device makes music. I'm always listening to music; I can't work in the studio without it. Maybe it's all the TV themes songs I grew up with, or how characters like Shaft and Tony Manero had memorable soundtracks, but every activity has its recording.
What everyday thing are you better at than everyone else?
That's an interesting question! I'm not sure there is anything I'm better at than everyone else, but I'm really good at making the bed.
What do you listen to while you create?
Depending on what I'm doing, I'll listen to everything from Bjork to Debussy, Disney songs to metal. Oddisee and Tune-Yards might kick the day off, Alice Coltrane and Daft Punk might take me into lunch, and artists like FKA twigs and Terry Callier are great for reflecting.
What are you currently reading?
I've been re-reading Octavia E. Butler's Patternist series, which is fantastic, and I just started Lafayette in the Somewhat United States, by Sarah Vowell.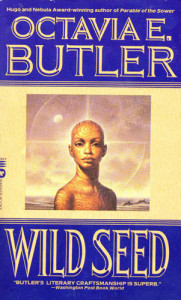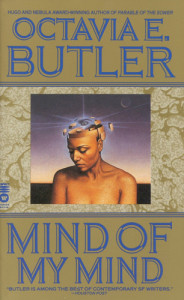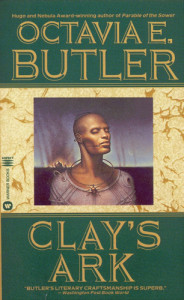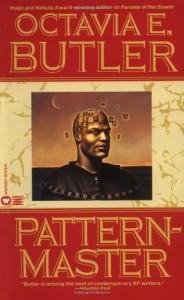 What are your favorite books and movies of all time? And why?
I really love The Matrix (1999). In addition to its cultural relevance, as an updated Christ narrative for Millennials and contribution to special effects in cinema, it thoughtfully considers and respects a multitude of audiences. For example, one could view the movie and enjoy it for the explosions and the cat and mouse aspect, the science fiction and Wushu/wirework, the interpersonal relationships, and/or the philosophical referencing such as Jean Baudrillard's Simulacra and Simulation and Plato's Allegory of the Cave.
How do you recharge?
Tennis, binge-watching TV shows, and listening to audio books.
What's the best advice you've ever received?
Perseverance. That's what I've taken away from the aggregate of better advice I've received over the years. You have to hustle: 50% of your time in the studio and 50% building your business. There are legitimate distractions on the way, but if you find yourself in your 30s doing what you love, you'll also find that most of your competition has moved on to other industries. Others may be institutionally advantaged, more affluent, connected, talented or smarter, but if you're willing to stay on that "treadmill" longer, to pass out before you give up, you may find a career in this.
How do you believe we can change our consumption-based society, to an expressive creative-based society?
It's already underway. Children are growing up emulating actors, musicians, and other public figures that are behaving more and more like Renaissance artists, engaging in multiple creative platforms. This, coupled with record numbers of students enrolling in some form of art school, moving into art and non-art professions using the creative thinking and entrepreneurial skills learned therein, are influencing their marketplaces and families. We could publically recognize this trend and shift policy from Science, Technology, Engineering, and Math (STEM) to STEAM (Science, Technology, Engineering, Art, and Math) educations models.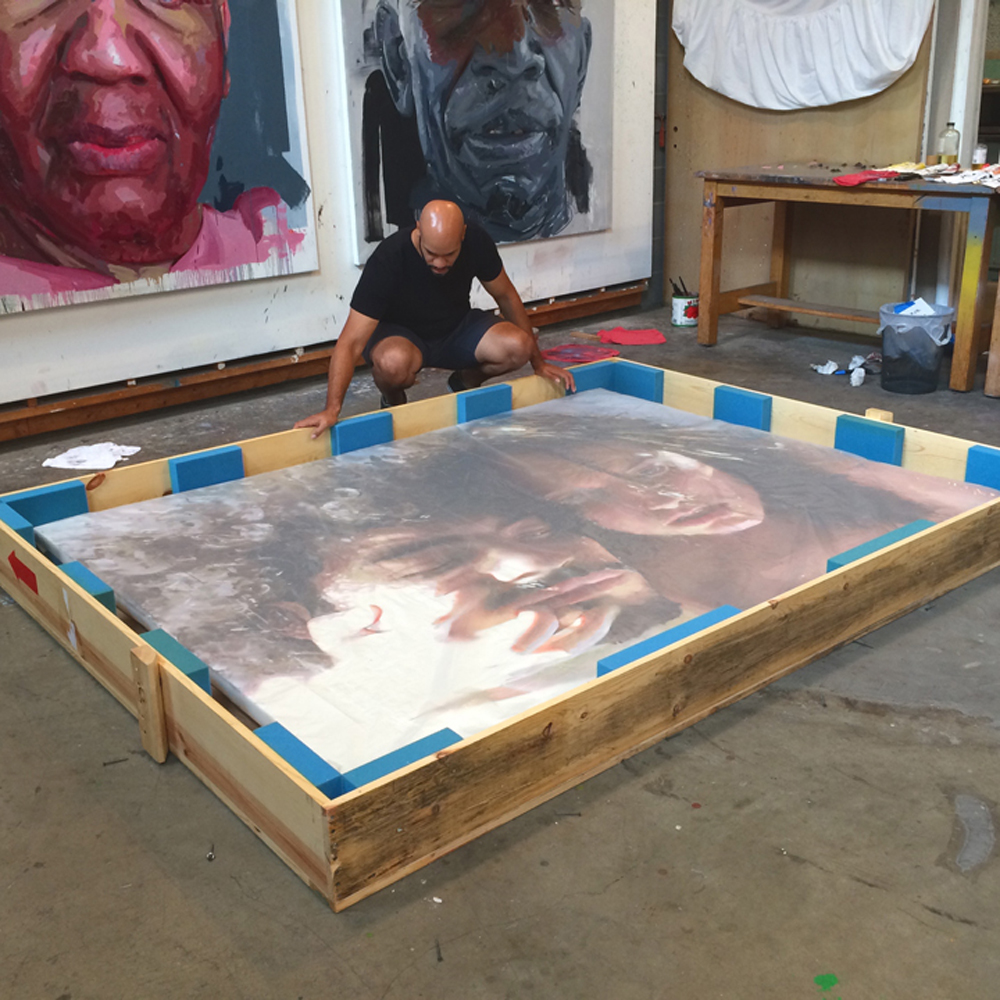 Who else would you love to see answer these questions?
Langston Allston, Firelei Baez, Endia Beal, Stephen Cartwright, Aleah Chapin, Nadia Lee Cohen, Bethany Collins, Brandon Coley Cox, Abigail Deville, Eric J Garcia, Dayron Gonzalez, Deborah Grant, Ben Grosser, Joshua Hagler, Lamont Hamilton, EJ Hill, Jennifer B Hudson, James Jean, John Jennings, Hayv Kahraman, Titus Kaphar, David Leggett, Emmy Lingscheit, Scott Listfield, Jenny Morgan, Toyin Odutola, Daniel Ochoa, Jason Patterson, Jake Saunders, Jessica Stoller, LeSean Thomas, Stacy Lynn Waddell, and Ashley Wood, to name a few.
Is there anything else you'd like to add that might be interesting to our readers?
If you're in Chicago February 25 – March 26, 2016 check out my solo show Inheritance at Kruger Gallery. Or, if you're in Miami through February 28, see my painting F.B.J. in What's Insider Her Never Dies at Yeelen Gallery. Thank you Creative Monday for inviting me to share my process and your readers for sticking with me through this interview. I enjoyed this opportunity, and hope others can relate it to their creative journeys.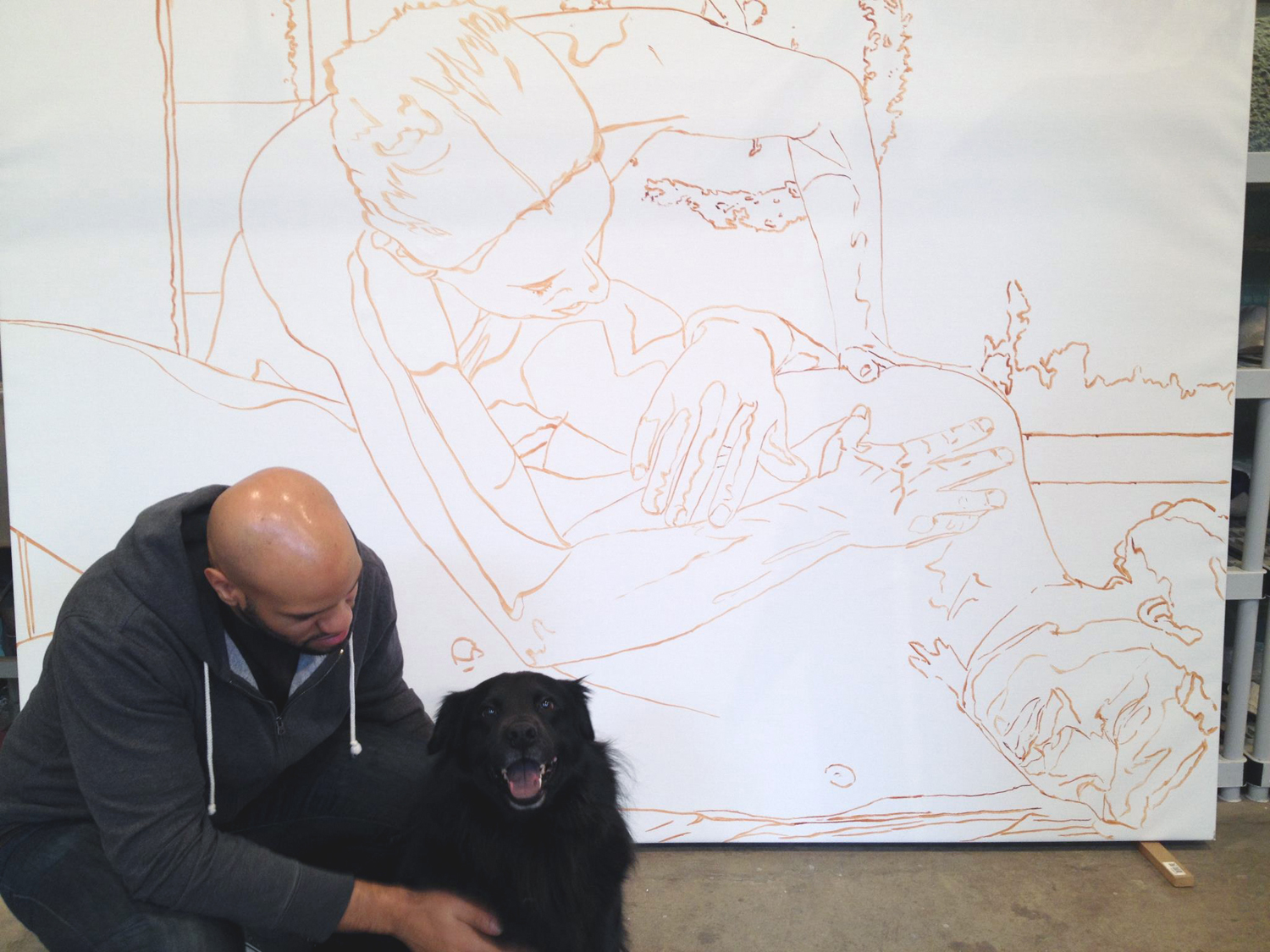 You can follow Patrick:
Website: patrickearlhammie.com
Facebook: patrickearlhammieartist
Instagram: patrickehammie
Twitter: patrickehammie
"Perseverance. That's what I've taken away from the aggregate of better advice I've received over the years… There are legitimate distractions on the way, but if you find yourself in your 30s doing what you love, you'll also find that most of your competition has moved on to other industries."